Submersible Nozzles
Submersible nozzles of corundum-graphite composition are manufactured by new technologies providing thermal shock and wear resistance of the product.
Depending on service conditions and design and process features of customer's equipment JSC "Borovichi Refractories Plant" has possibility to produce submersible
nozzles of various configuration (direct-flow, closed-bottomed with different number of and direction of outflow openings) and differentiated by chemical and substance
composition (slag belt, anticlogging coating of internal channel).
All submersible nozzles are subject to nondestructive testing at X-ray apparatus Artikon-305 for the purpose of hidden defects detection (internal cracks, flaws, foreign
inclusions, etc.).
External surface of submersible nozzles is covered with high quality porcelain enamel providing complete protection of graphite against burning-out during nozzles
heating-up.
Design of submersible nozzles assumes taper or spherical joining with nonswirl nozzle using felt gasket on account of hollow space equaled to 3 mm between contact
surfaces of submersible nozzle and nonswirl nozzle. In accordance with the customer's option argon flow to the point of submersible nozzle and nonswirl nozzle connection
is allowed.
Prior to application submersible nozzles shall be preheated up to the temperature of 800°С. In order to prevent burning-out of graphite, submersible nozzles in heated
state (at 800°С) are recommended to be held not more than three hours.
It is possible to manufacture submersible nozzles with argon flow to the point of submersible nozzle and nonswirl nozzle connection both by customer's drawings and
manufacturer's designs.
Technical characteristics
Rate for grade

PS-KGC

PS-KGCA

PS-KGCD

PS-KGCAD

КG

C




КG

C

А

КG

C

D

КG

C

А

D

Spec. 14-194-274-06 rev.1-3

Mass fraction of dry substance, %:

Al2O3, minimum

С, minimum

ZrO2, minimum


55

25

-


-

15

68


55

25

-


-

15

68


65

18

-


55

25

-


-

15

68


58

22

-


55

25

-


-

15

68


65

18

-


58

25

-

Apparent density, g/cm³, minimum

2,40

3,45

2,40

3,45

-

2,40

3,45

2,50

2,40

3,45

-

2,50

Open porosity, % maximum

17

18

17

18

-

17

18

16

17

18

-

16
Rate for grade

materials of cylindrical part the submersible nozzle

material of upper layer of funnel

material of slag belt

material of antikleking layer

materials of bottom part (chopper)

PS

PS1




PS2

V

C1

C2

C3

C4

А

D

D1

Spec. 14-194-286-09 rev.1

Mass fraction of dry substance, %:

Al2O3, minimum


С, minimum

ZrO2, minimum

SiO2, maximum




54

24

-

-




55

20

-

-




63

15

-

-




53

9

-

-




-

10

73

-




-

10

70

-




-

8

74

-




-

10

72

-




55

maximum20

-

40




58

22

-

-




63

15

-

-

Apparent density, g/cm³, minimum

2,40

2,42

2,55

2,40

3,65

3,60

3,68

3,63

-

2,50

2,55

Open porosity, % maximum

17

17

20

20

17

17

17

17

-

16

20
Rate for grades

КUPS-65

КUPS-CZS

Nozzle

Protective layer

GOST R 52801-2007

Mass fraction of dry substance, %:

Al2O3, minimum

С, minimum

ZrO2, minimum

65

24

-

63

19

-

-

10

70

Open porosity, % maximum

16

20

23
Limit deviations of dimensions, mm
| Dimensions, mm | Limit deviations dimensions Spec.14-194-274-06 rev.1-3, Spec.14-194-286-09 rev.1, mm |
| --- | --- |
| Diameter: | |
| outside | ±5 |
| inside | ±1 |
| Height: | |
| up to 750 inc. | ±10 |
| over 750 | ±20 |
Dimensions, mm

Limit deviations

КUPS-65, КUPS-CZS

unglazed
glazed

Diameter:

up to 50 inc.

±2

±3

over 50 up to 100 inc.

±3 (±4)

±4 (±5)

over 100

±6

±7

Height:

up to 750 inc.

±10

±11

Height of bead and groove

±5

±6

Angle 25°

±5°

±6°
Dimensions of submersible nozzles GOST R 52801-2007
| Number | H | h | h1 | h2 | d | d1 | d2 | A | B | a | b |
| --- | --- | --- | --- | --- | --- | --- | --- | --- | --- | --- | --- |
| 23 | 500 | 41 | 60 | 80 | 60 | 132 | 70 | 165 | 160 | 120 | 115 |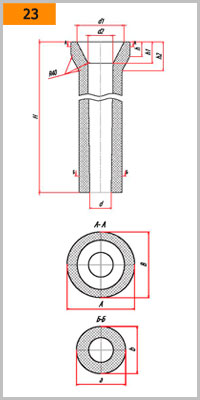 | Number | H | h1 | h2 | D | D1 | D2 | d | d1 | d2 | d3 |
| --- | --- | --- | --- | --- | --- | --- | --- | --- | --- | --- |
| 24 | 570 | 24 | 52 | 120 | 50 | 66 | 30 | 95 | 82 | 46 |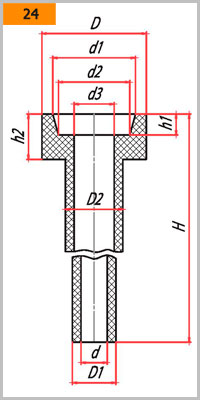 | Number | H | h | h1 | h2 | h3 | h4 | D | D1 | D2 | d | d1 | d2 | d3 |
| --- | --- | --- | --- | --- | --- | --- | --- | --- | --- | --- | --- | --- | --- |
| 25 | 680 | 70 | 60 | 50 | 35 | 75 | 185 | 170 | 150 | 75 | 155 | 95 | 75 |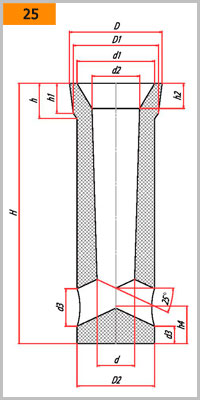 | Number | H | h | h1 | h2 | D | D1 | D2 | d | d1 | d2 | r |
| --- | --- | --- | --- | --- | --- | --- | --- | --- | --- | --- | --- |
| 26 | 700 | 60 | 41 | 80 | 165 | 120 | 128 | 60 | 132 | 70 | 40 |