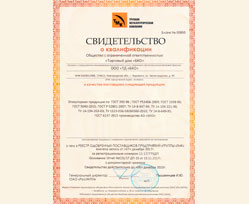 JSC "Borovichi Refractories Plant" took part in refractory materials and products suppliers qualification procedure for "TMK Group" companies. Our enterprise passed the documental inspection of current QMS for qualification and registration as approved supplier.
OJSC "Russian Research Institute of the Tube & Pipe Industries" performed the documentation estimation.
According to qualification results the certificate which confirms, that LLC "TH "BRP" is listed in register of "TML Group" companies approved suppliers, was issued.

Notice:
*The minimum for registration is 70%. Our enterprise scored 99%.