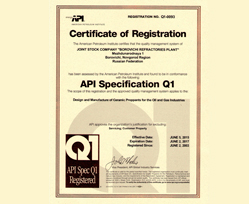 From April 6 to April 10, 2015 of the Quality Management System of the Proppant Manufacturing was held to set up the correspondence with the requirements of API Specification Q1 9th edition.

During a workweek all processes and divisions taking part in the Quality Management System of the Proppant Manufacturing, organization standards and actual activities were examined for compliance with API Spec Q1: the production, the technological and final product control, the product designing, the documentation management, the personnel management, the nonconforming product management, the consumer demand analysis and the consumer satisfaction, the metrological provision, purchases, etc.

American Petroleum Institute confirmed the audit results to be satisfactory and JSC "Borovichi Refractories Plant" may carry on using the Certificate of Conformity.

The strengths of the Quality Management System which were noted, are a technology planning and a technological process itself. The audited divisions created the efficient atmosphere, the personnel actively responded to the questions and suggestions.

The regular audit inspection of the certified system is scheduled for March, 2016.