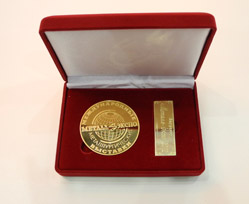 On November 13–16, 2012 the Borovichi Refractories Plant took part in the 18th International Industrial Exhibition "Metal Expo-2012".
728 companies from 35 countries participated in the exhibition. The leading iron and steel companies and holdings, manufacturers and suppliers of the equipment, engineering solutions, the largest steel trading companies from Russia and more than 30 countries presented their expositions.
According to the results of the contest "The gold and silver medals of "Metal Expo-2012" exhibition, JSC "BRP" was awarded a gold medal for the development and production assimilation of mullite-siliceous refractory products of MKRF-52 grade for setting of shaftless air heater prechambers.
On the final day of the "Metal Expo-2011" exhibition, the management board awarded the participants with cups for fruitful work and the best exposition. JSC "BRP" was among the awardees.