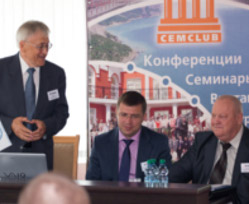 On May 21–24, 2012 the seminar "Refractories and Refractory Linings of Furnace Units of Cement Companies" took place in Borovichi. This event was held in cooperation with LLC "Cemclub" on the site of JSC "BRP".
The following persons opened the seminar: General Director of JSC "BRP", Vladimir A. Mozhzherin, and the President of LLC "Cemclub", Vladimir I. Shubin.
Not only the participants of the Russian market visited the seminar, but also the representatives of the foreign countries.
Among the main cement manufacturing companies the following ones took part in the seminar: JSC "Novoroscement", JSC "Sebryakovcement", LLC "Achinsky Cement", JSC "Sukholozhskcement", LLC "Krasnoyarsk cement" and others. Among refractory enterprises we want to focus attention on representatives of our company and also JSC "Dinur", JSC "Novomoskovskogneupor", LLC "Keralit", REFRATECHNIK and RHI companies.
During the event, the specialists of JSC "BRP", LLC "Cemclub" REFRATECHNIK Cement GmbH, LLC «RKhI-Vostok», LLC "Aliter-Axi", LLC "Recon group" and others presented their reports.
The participants discussed issues and nuances relating to the use of refractory materials, and learned a lot of new and useful information provided by the competent specialists.
In the final day the participants had a tour at the JSC "BRP" production facilities and museum.