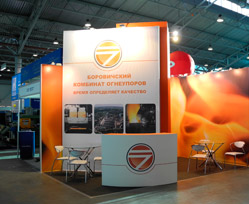 On March 13–15 the exhibition "Metallurgy. Foundry engineering" took place in St. Petersburg, in the territory of "Lenexpo" Exhibition Complex, as part of St. Petersburg Industrial Exposition. JSC "BRP" traditionally takes part in this event.
The following companies represented their expositions: Abamet Severo-Zapad (St. Petersburg), Irlen-Engineering (St. Petersburg), Severstal Metiz (Cherepovets), Azovmash (Ukraine), Bauer Compressoren (Moscow), Ducon (St. Petersburg), JSC "Mtsensk Foundry" (the Oryol Region), CL Engineering (St. Petersburg), Novokramatorsky mashinostroitelny zavod (Ukraine) and others. Besides, there were widely represented the industrial and scientific organizations of the Republic of Belarus, Finland, Rumania, Czech Republic, Germany and other countries.
This year JSC "BRP" represented the Cembor-70 for the category "The best innovation project in the area of advanced materials and chemicals". According to the results of the contest, the Cembor-70 was awarded the second level diploma with presentation of silver medal.