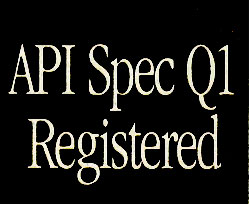 The quality management system of proppants production has been certified for conformance to the requirements of International Standards of API Q 1 "Specification for quality programs for the petroleum, petrochemical and natural gas industries" of the American Petroleum Institute, and ISO / TS 29001 "Petroleum, petrochemical and natural gas industries. Sector-specific quality management systems. Requirements for product and service supply organizations".
JSC "BRP" firstly obtained API Q1 certificate in June 2003, the certificate of compliance with the International Standard – ISO/TS 29001 – in April 19, 2010.
In the period from May 21 to 25, 2012 the compliance audit of the equality management system for compliance with the requirements of API Q 1 specification and ISO/TS 29001 standard was held at the enterprise.
The following was audited: industrial process of proppants production, procedure for conclusion of contracts with raw material suppliers and proppants users, product engineering, process of technical and acceptance control of the production, the level of personnel competence, industrial control, storage of raw materials and finished products, metrological support of the production, control of nonconforming products.
Since the period from 2003 the American Petroleum Institute has performed 10 audits at JSC "BRP", at that the Institute has made 23 remarks, which were eliminated within the established time limit. For the second year, the audit did not make any remarks.