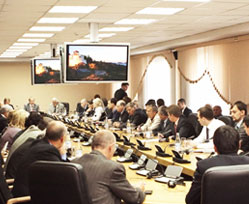 On September 6–9 this year the 3rd International Congress and Exhibition "Nonferrous metals-2011" were held in Krasnoyarsk, in which the JSC "BKO" participated. The Congress was held under the support of the Government of the Krasnoyarsk Territory and UC "RusAl". This congress is a unique major event in Russia, uniting the theme of non-ferrous metals production.
The congress and exhibition were attended by many organizations from different countries (Germany, France, Norway, China, Poland, Nigeria, UAE, Kazakhstan). In the course of the congress more than 140 reports were made in the different sections: "Alumina production", "Nonferrous casting", "Metal forming and heat treatment", "Non-ferrous and rare metals production", "Aluminum preparation", etc. In the section "Aluminum preparation" the report of JSC "BKO" was made on the theme "Refractory concretes for aluminum preparation aggregates".
During the intersectional meetings negotiations were held with representatives of such companies as Novokuznetsk Aluminum Plant, Bogoslovsk Aluminum Plant, Mosoblprommontazh, representatives of "RusAl" engineering and technical center, as well as some heads of scientific institutions collaborating with UC "RusAl". The last Congress, as well as communication with the experts involved in it, showed that policy of development of new types of products and materials for the aluminum industry adhered by JSC "BKO" is correct and will be further developed in close cooperation with the scientific and technical base of UC " RusAl". In particular, positive feedback was received on the use of BorAluBar products in the barrier layer of electrolysis cell, which will be recommended for further use in the construction of new aluminum smelters in Boguchany and Taishet, a further cooperation proposal from "RusAl" engineering and technical center was accepted for review, and the issue of re-testing the metal duct units at Novokuznetsk Aluminum Plant was raised.
Additionally, during the negotiations with JSC «Mosoblprommontazh" received the task to develop materials for the lining of the inclined rotary furnaces was received and possible supplies of products were settled.