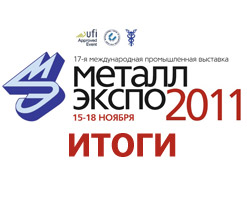 On November 15–18 in Moscow in the Russian Exhibition Center, the 17th International Industrial Exhibition "Metal Expo-2011" was held, in which JSC "BRP" traditionally participated.
In total 650 companies from 28 countries from the whole world of various industries participated in the exhibition. The leading metallurgical companies represented their expositions: "Severstal", "MECHEL", "Management company "Metalloinvest", "MMK", "TMK", "Petrostal", "OMZ-Special Steels", "Chelpipe" group, OMK, UMMC, VSMPO-Avisma corporation, KUMZ, CZP, BMZ, DSS, Donetskstal, ArselorMittal, SMS Group, Ruukki, RHI, Vesuvius, etc.
During the exhibition the JSC "BRP" stand attended more than 160 companies.
This year in the nomination "The Best Company Product Development" JSC "BRP" presented the MLUT-69 product. In total 52 applications from various companies were submitted. The MLUT-69 product was awarded a diploma for 3rd place.
On the final day of the "Metal Expo-2011" exhibition, the management board awarded the participants with cups for fruitful work and the best exposition. JSC "BRP" was among the awardees.